[:en]
The context : Nims incredible feats, press about him, the records
When Nirmal Purja, then an unkown climber to the community, declared his intention to climb all 14 8000ers peaks within a year, initial reactions from public, other climbers and media was rather incredulous. I include myself in the early critics . Then, the former gurkha and SAS soldier, showed to the World his strength, his sharp focus and his incredible leadership. He climbed the 14×8000 in about six month, and the last one was K2, in Winter – the last 8000ers never climbed in the cold Karakorum season.
He used a combination of his military skills to build a super strong Sherpa team supporting him, an extraordinary effort in logistics, a large use of any means – as supplementary oxygen used by himself and his team mates, helicopter flights to race between Base Camps and carry the necessary amount of equipment – and he just did it.
He faced brutal conditions on some peaks, as happened on Dhaulagiri ; he also led some rescues at high altitude during his climbs, such as on Kangchenjunga ; he also summited some 8000ers declaring that he didn't use supplementary O2, as for the incredible winter collective ascent on K2, which led him to a World popularity.
Soon NETFLIX aired a movie about his feat ; Nirmal Purja then reinforced and took to great level of business his own agency, Elite Exped (established by him some years ago, when he started the planning of his climbing career), took the leadership of all Sherpas community and without any doubt he changed the "routine" on 8000ers Commercial Expedition. After decades, Sherpa took the led, the organization, the logistics and a new successful season of guiding clients on the high altitude peaks, both in Himalaya as well in Karakorum, changed the rule.
Said this, one critical aspect shown up quite evident : Nirmal management of his relationship with press, at least with some journalists : especially, with those who asked him uncomfortable questions. From the beginning, not without some real reasons, he claimed to be attacked by media in a way that "no westerners climbers" had never confronted. His enormous social success and the majority of Press about him, indeed, made his fears sounds quite strange , as his declared feeling to be considered as a "target" of envy, hidden attempts by "westerners agents" to sabotage his success and so on.
Attempts to interview him and ask him about some doubts or question during is 14×8000 rush were often dismissed by him with total silence or answers like "for all the envious and doubtful who try to spread negativity, there will be time to show them who am I" or "I will show photos/video proofs" when asked to details all his summit in his claimed 14×8000 record.
I'm an indipendent chronicler ; I'm not a professional journalists with any conflict of interests nor nothing to hide when I write about some climbers ; I have a strong principle: try to fact check anything, specially when the claims are very exceptionals ; NO ONE , in my opinion, with a so strong public position, can't avoid questions from Press . Of course, it's up to him substantiate his legitimate critics and/or rights to don't answer to some questions. But then, please accept the consequences.
In alpinism there aren't fixed rules about claims or records. Anyway, there are indipendent experts – not only journalists! – who are hard working on statistics and fact checking the claims made by climbers. The Himalayan Database is the most famous institution in charge of recording climbers ascents in Himalaya – anyone could freely install the database on a device and access to all expeditions data; 8000ers.com is another one, extending the realm of climbs to Karakorum. There is more than a valid reason why almost all climbers stop in Kathmandu, on the way back from their expeditions, and meet the experts – until few years ago, they sat with the respected and late Mr.Elizabeth Hawley , sharing their ascent stories and if she suspected that they were not saying the truth, the ascents were marked as "DISPUTED" in the Database ; high altitude climbing isn't a traditional sport, there isn't any "international panel of jury", anyway having someone who "certify" the ascent is considered important for the climbers, as they use their records and claim to gain media attention, sponsorship as happens for others outdoor activities. This tradition continues with the HDB Team led by Billi Biering. The same is for 8000ers.com , where Eberhard Jurgalski is working since decades validating, studying, reporting about any kind of statistics about both Himalayan and Karakorum high peaks, from 6000ers to the 8000ers.

It is worth to note that both Himalayan Database as 8000ers.com are truly independent "institutions" and got NO FINANCIAL SUPPORT, other than on voluntary base. People working from them spend lot of their time to analyze data, photos, reports and they deserve the maximum respect from the mountaineering community.

Even one exceptional leader and athlete as Nirmal Purja should accept a normal scrutiny or questions about his extraordinary feats.

Of course he can decide to DON'T CARE about it. But then again, he should accept the critics, the questions and doubts if asked politely.
What happened ?
Few days ago, Nirmal Purja and his Elite Exped team summited Kangchenjunga , after a very fast rush on the mountain . Nims was guiding a very important client with him, the Qatari Princess Asma Al Thani . Angela Benavides, a veteran, respected journalists which has a long experience on writing about climbers and ascent , who in the past tried to ask Purja questions like I mentioned above, wrote this article :
I must tell that I checked the post done by Elite Exped Sherpas, I understood that it was more a misunderstanding. Anyway, Angela raised some doubts, and after double checking in an interview with Mingma, she corrected and clarified that Nims climbed from BC to C2, then from C2 to summit in a push.
Anyway, considering the massive use of helicopters of last years – done by Nims and many other climbers – to carry gears and or to lift climbers from a peak BC to the next one , in a constant rush to "link up" more 8000ers in a row or in a single expedition, the questions were neither an insult nor something odd.
But Nirmal Purja got triggered and in a social post – both published in Instagram as in Facebook – he had a brutal, awful reaction, attacking personally Angela Benavides.
The "Racism" issue raised by Nirmal Purja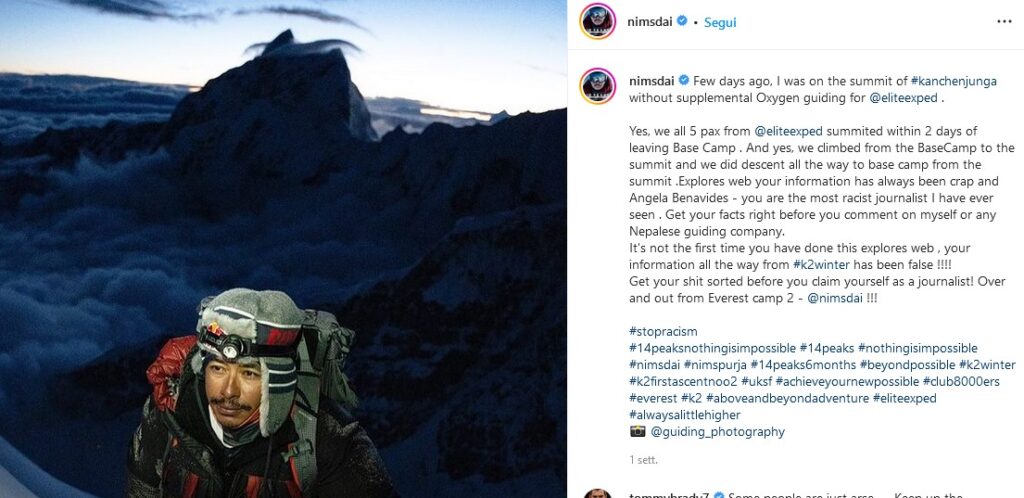 "Angela Benavides, you are the most racist journalist I have ever seen. Get your facts right before you comment on myself or any Nepalese guiding company. It's not the first time you have done this explores web, your information all the way from #k2winter has been false !!!! Get your shit sorted before you claim yourself as a journalist ! " #stopracism
My personal thoughts and the general reaction .
Frankly, besides the totally unacceptable tones – I could think Nims was quite stressed because is unstoppable rushing up and down at high altitudes – the "RACISM" issue is nothing I have seen, nor in the past articles, nor in the article which triggered his reaction.
Nirmal Purja is an exceptional leader and it's clear to me his huge contribution to all the Sherpa community and, in general, to his native country, Nepal. He set a high level standard organizing 8000ers expeditions with cutting edge team, logistics and results. His business has disrupted a long history of "Western Agencies" (US,Europe founded) and for sure, many people are not happy about this.
But the critics about the commercialization of 8000ers climbing, the issues about environment, about the negative effects that this could affect the high peaks, were discussed well before Nirmal Purja began his career. And as far as I recall, many journalists, climbers, experts were quite vocals in the past about this with anyone, not caring about his country of origin, the color of his skin or whatever.
It is also to be noted that ExplorersWeb is not a "mainstream" magazine, and you may have a look at the total "social/web" audience of this outlet – about 10.000 followers – comparing it to the Nirmal Purja massive social influence, which is TWO MILLIONS FOLLOWERS on Instagram page and a HALF MILLION on his Facebook Page.
MY PERSONAL STATEMENT ABOUT THIS: I think that Nirmal Purja should reconsider his brutal attack against Angela Benavides. His words are TOTALLY UNACCEPTABLE, he lacked respect and the racism accuse is wrong ; this led to a very dangerous shitstorm on a single person.
Angela Benavides, as any other journalists, could be criticised and discussed for his writings and reports ; I don't always agree with some of her considerations, but anyone must pay respect to each other. Cilmbers and journalists.
It's easy to have a look at the comments under the Nirmal post : a shitstorm on Angela and ExplorersWeb. No mainstream media reported the issue, besides a bunch of journalists ; no solidarity at all to Angela. Frankly said : going against a powerful influencer like Nirmal Purja could lead to real trouble for anyone.
Nirmal new records and a "ghost comment" about his past 14×8000 claimed record
After this unpleasant issue, Nirmal claimed a couple of new records : Kangchenjunga without o2 , then Everest and Lhotse in 8 days, 23hours. Everest and Lhotse "traverse" (a linkup – from Everest summit to C4 SouthCol then Lhotse summit) in just 26 hours.
Then, few days ago, NO ONE noticed a comment in another "self-celebrating" Nirmal Purja post.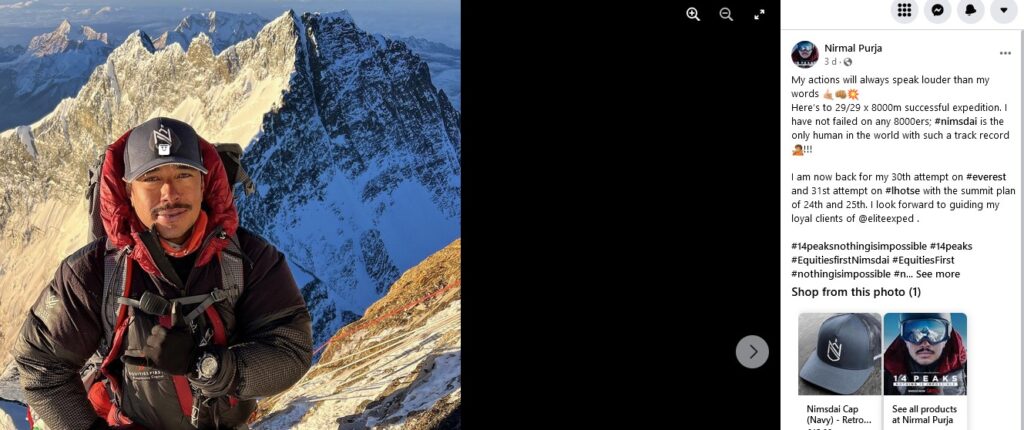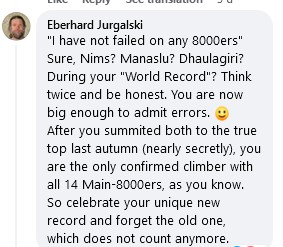 The comment above, since it was written by the maximum expert and known as serious fact-checker, has to be taken seriously BY ANYONE. Eberhard Jurgalski himself told Nims that his claimed 14×8000 records, in his opinion was NOT VALID, because he didn't climb until the real summit on Dhaulagiri as in Manaslu. The Manaslu true summit question is well known , as many of you should recall when it was discussed and had huge public impact .But then, Eberhard DROP ANOTHER HUGE statement : he recognized Nirmal Purja AS THE ONLY ONE CLIMBER WHO TOPPED ALL 14 8000RS EVER (after Nims climbed again in Autumn Dhaulagiri and Manaslu). We will need to wait until 8000ers.com will publish a full report about this.

Said this, Nirmal Purja will be not affected by the question by The Himalayan Database, as for their public statement below – where they recognize the true summit question but also said they will not change the paste achievements.
How to avoid such unpleasant issues between climbers and reporters ?
Brief conclusion: it is up to reporters and journalists to do their best to fact-check and verify any information without hurrying too much to publish their findings ; in our society , where news are spreading fast as social networks became the most influential place to find informations, there is a tendency to be "always on" and "fast as possible". This is not very good for the quality of information.
For the climbers is quite simple : if they declare important goals, if they claim great exploits, they must be accountable about their story telling, providing info as much as they can ; photos, gps recordings, videos, and truthful reports.
Both the categories should always show respect to their respective jobs and personal integrity.
[:]